Raising Monarchs in Missouri 
If you enjoy learning about Monarchs, there is no better learning experience than watching their metamorphosis first-hand. Bobbie Tracy, one of Frisella Nursery's own landscape designers, has made raising and observing Monarchs a hobby and is happy to share her experience.
In the spring of 2017, Bobbie learned that anyone could create a certified Monarch Waystation with just a 10'x10′ garden space, so she set out to create one in her own yard. She planted milkweed, and various nectar plants and says, in her experience, Purple, Swamp, and Common Milkweed are the favorite varieties for both egg laying and caterpillar feeding. Now in its second year, she believes her Waystation has served hundreds of Monarchs.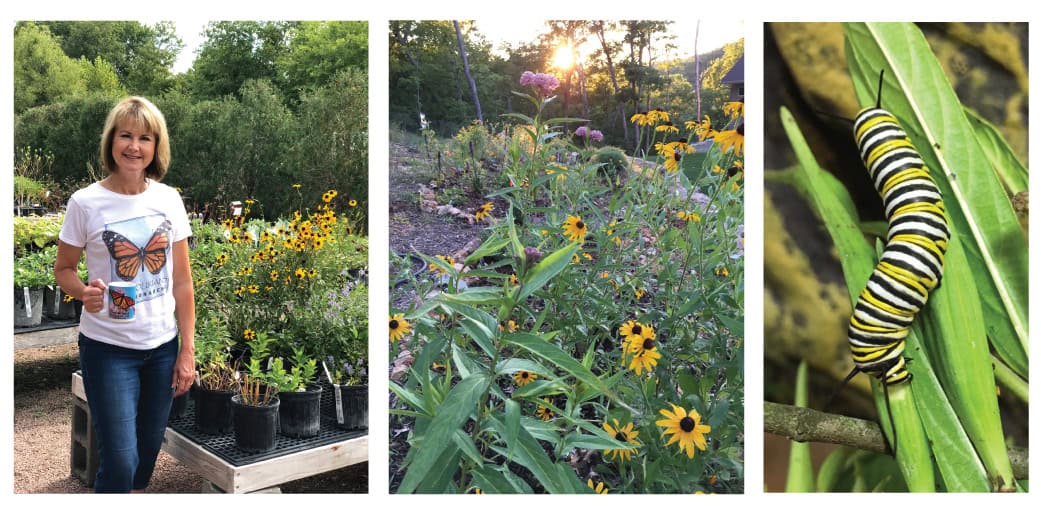 A Monarch Waystation is a combination garden of butterfly-food plants and caterpillar-food plants. The nectar plants (Butterfly Weed, Butterfly Bush, Coneflower, Annuals, etc.) attract the Monarch butterflies to the waystation and caterpillar-food plants (Common, Swamp, Purple, Milkweed) are where the female Monarchs will lay their eggs. Female Monarchs only lay eggs on Milkweed because that is what caterpillars eat. When the baby Monarch caterpillar hatches, it will begin eating the Milkweed.
Create Your Own Monarch Waystation:
"It's easy to create and certify your own waystation, and it is so much fun to see butterflies everywhere," Bobbie said. Visit the
Monarch Watch website
for more information. Bobbie would love to help anyone that is interested in raising Monarchs, you can email her any questions 
at bobbie.tracy@frisellanursery.com.